SSC Exam Routine 2022-All Boards SSC Exam Routine (2022) are given below. Finally, the SSC exam routine was published on 27 April 2022 by the education board. ssc exam will start on 19 June 2022 and will end on 06 July 2022. This time the duration of the exam will be 2 hours and the exam will start at 10 am and end at 12 pm. If you want you can download SSC Exam Routine from this text. Stay with us to get updated information about SSC routine.
SSC Exam Time Table 2022
This time HSC exam will be taken on short syllabus. In this post we publish the routine of Madrasa Board and Bangladesh Technical Education Board including all boards Dhaka, Mymensingh, Rajshahi, Chittagong, Dinajpur, Barisal, Jessore, Comilla. We publish the result along with SSC and equivalent exam routine on our website. Candidates must enter the exam hall following the hygiene rules while giving the SSC exam. Attend the exam hall 30 minutes before the start of the exam.
SSC Exam Routine 2022
Subject and time
From 10 AM to 12 PM

subject code

Date and time

Bengali-1st
101
19 June 2022 (Sunday)
Bengal-2nd
102
20 June 2022 (Monday)
English-1st
107
22 June 2022 (Wednesday)
English-II
108
25 June 2022 (Saturday)
mathematics
109
27 June 2022 (Monday)
Agricultural education
134
28 June 2022 (Tuesday)
physics
136
30 June 2022 (Thursday)
History and World Civilization of Bangladesh
152
30 June 2022 (Thursday)
Finance and Banking
152
30 June 2022 (Thursday)
chemistry
137
02 July 2022 (Saturday)
Urban Policy and Citizenship
140
02 July 2022 (Saturday)
Business ventures
143
02 July 2022 (Saturday)
Geography and environment
110
03 July 2022 (Sunday)
Higher Mathematics
126
04 July 2022 (Monday)
accounting
146
(Tuesday 05 July 2022)
biology
138
06 July 2022 (Wednesday)
the economy
140
06 July 2022 (Wednesday)
SSC Exam Routine Dhaka/Rajshahi/Comilla/Jesore/Chittagong/Barisal/Sylhet/Dinajpur/Mymensingh Board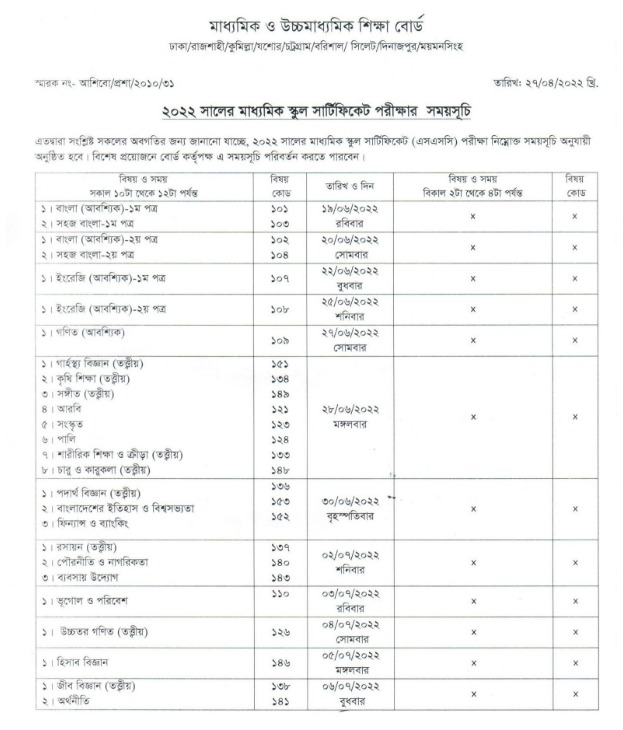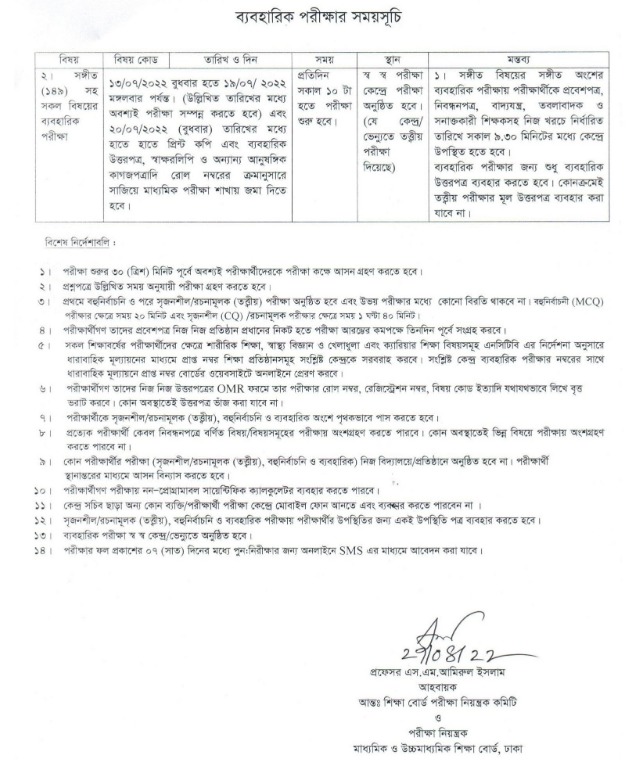 Release Date: 27 April 2022
Special instructions
1. 30 minutes before the start of the exam, the candidates must sit for the exam.
2. The exam should be taken as per the time mentioned in the question paper.
3. First the creative/compositional test will be conducted on multiple choice and there will be no break between the two tests. Time duration for multiple choice test will be 20 minutes and time duration for creative / compositional test will be 1 hour 40 minutes.
4. Candidates should collect their admit card from the head of their institution at least three days before the commencement of the examination.
5. Physical education, health science and sports and career education subjects for all academic year candidates will send the marks obtained through continuous assessment online to the board website as per the instructions of NCTB.
6. Candidates should fill the circle in their respective answer sheet by writing his exam roll number, registration number, subject code Iftar properly in the form and under no circumstances the answer sheet may be folded.
7. Candidates have to pass the creative/compositional multiple choice and practical sections separately.
8. Every candidate can participate in the examination of subjects only in the subjects mentioned in the registration form. Under no circumstances will he appear in the examination on abhorrent subjects.
9. No candidate's examination will be held in the lower school/institution.
10. Candidates can use non-programmable scientific calculator in the exam.
11. No person/candidate other than the center secretary shall bring and use mobile phone in the examination center.
12. The same attendance sheet shall be used for the appearance of the candidate in the Creative Essay Multiple Choice and Practical Examinations.
13. The practical test will be held at respective centres/venues.
by Bangladesh Education Board on their official website www.educationboard.gov.bd SSC Exam Routine 2022 Released. SSC and HSC Exam Routine Get updated information about independentjobs.com Stay with this website. We publish exam routine and exam result on our website.