Recently the Food Department has published the exam time for the post of Deputy Food Inspector. It is hereby informed for the information of all concerned that for recruitment to various non-gazetted vacancies under Food Directorate, Administration Department, Food Directorate has issued recruitment notification vide memo No. 1229 dated 11/07/2018.
In view of the said recruitment circular, the MCQ/Written Test of the applicants for the post of Deputy Food Inspector will be held 19/11/2021 Date from 10 AM to 11:30 AM in 17 districts including 08 divisional district cities (Dhaka, Tangail, Faridpur, Mymensingh, Chittagong, Noakhali, Comilla, Sylhet, Rajshahi, Bogra, Khulna, Jessore, Kushtia, Barisal, Patuakhali, Rangpur, Dinajpur) will be held Applicants/candidates are requested to attend the examination on time.
Candidates for the post will be invited 07/11/2021 to be 18/11/2021 You can download the admit card from the website till date. Candidates are requested to appear in the examination by printing the color copy of admit card compulsorily. Besides, the candidates are requested to download the exam related work guidelines and videos for the candidates prepared by IICT, BUET from the mentioned website and follow the instructions mentioned there.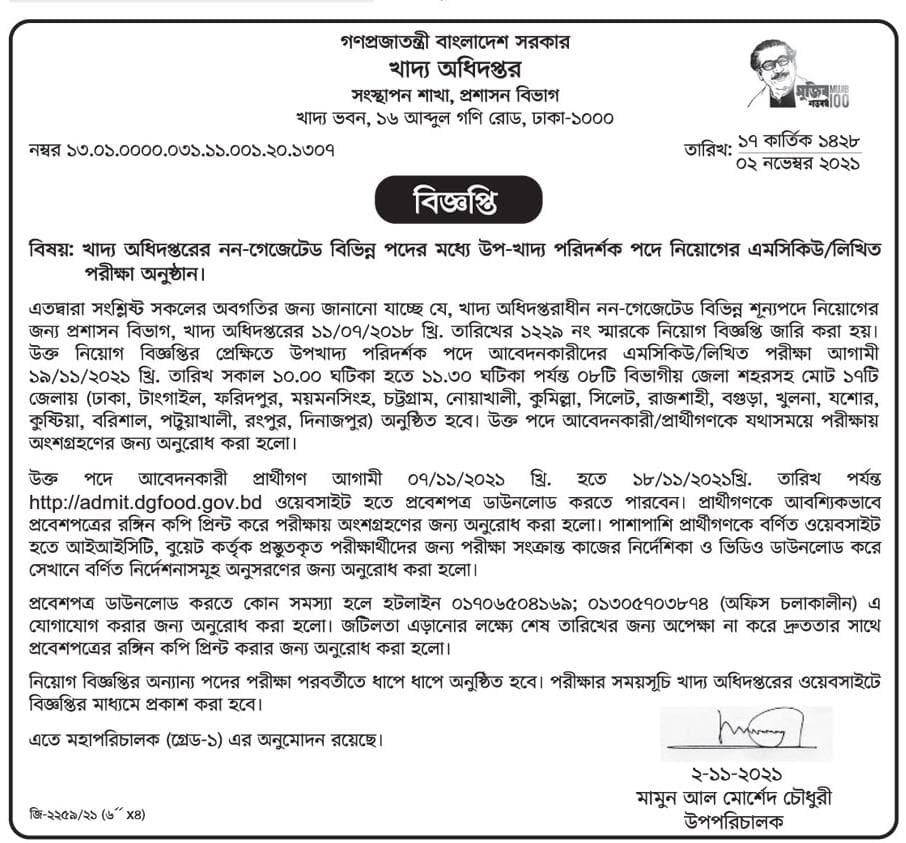 If there is any problem in downloading the admit card, please contact the hotline 01706504169 and 01305703874 (during office hours). In order to avoid complications, it is requested to print the color copy of the admit card quickly without waiting for the last date.
The examination for other posts in the recruitment circular will be held later in a phased manner. The examination schedule will be published through a notification on the website of the Food Department.
সবার আগে নিয়মিত আপডেট পেতে আমাদের ফেসবুক পেজ লাইক দিয়ে রাখুন