Friends, if you Want to learn video editingthen you must read our today's article carefully.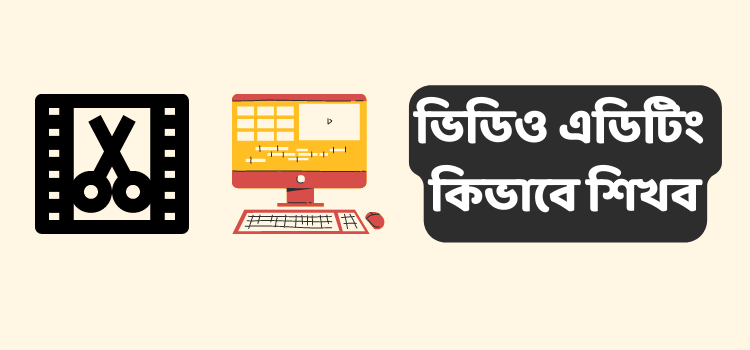 Because, through today's article, we are completely clear How to learn video editing in Bengali Going to find out about this.
Currently, video editing is a profitable skill, through which it is possible to earn money from home in various ways.
You can earn money by making your own YouTube channel or work as a freelance video editor etc.
Speaking of which, the demand for video content has increased tremendously in today's online world.
And so, if you can learn the work of video editing well, then there is definitely a chance to make a good career.
If done well, a typical video editor can earn around Rs 5 to 6 lakh per year just by doing simple freelance jobs.
And, now if you are wondering how to learn video editing, then don't worry.
Below I am going to tell you the complete steps to learn video editing one by one.
What is video editing?
Friends, before knowing how to learn video editing, you need to know about video editing very clearly.
Video editing is the process, where different video clips (video clips), image (image) and sound (sound) are edited, replaced, managed or joined together to create a complete video file or movie.
Nowadays, we watch various interesting videos on various social media platforms like YouTube, Instagram, Facebook etc.
However, they are not as attractive as before.
Because videos are made more interesting through the process of video editing.
If we try to understand the process of video editing in a simpler way, it can be said that,
"Video editing is the process, where a simple video file or clip is cut, cropped or split etc., by adding different types of effects, sound, elements etc. to make the video file more interesting. ".
And doing this requires a lot of skill and accuracy, as the video may need to be edited second by second.
So now you may well have understood that, What is video editing? or who is called.
How to learn video editing?
Learning video editing is not a difficult task, but you have to try to learn this task with full heart.
There are some rules and steps you need to follow in learning video editing.
Thus, if you follow the right rules and proceed, you can learn basic to advanced video editing skills very quickly.
So let's take a look at what you need to do from start to finish to become a professional video editor.
1. Create your own editing setup
To learn anything new it is very important that you have a setup.
So, to learn to play guitar, you need to have a guitar.
Likewise, learning video editing requires you to have a setup to practice on.
You can place your setup in any room of your house.
The setup includes a computer or laptop, sound system, headphones and internet connection.
In fact, the work of video editing directly on the Internet is not very special.
However, many times internet is required to download various effects, clips, images and tutorials.
Besides, we mainly use different online courses or ways to learn video editing.
Therefore, having access to a fast internet is essential.
2. Must join a free or paid course
Of course, to learn anything you need to get knowledge and training from a skilled person.
Now it is up to you whether you want to spend some money to learn from professionals or get basic knowledge for free.
The same goes for learning video editing.
See, you must join a good video editing course to learn the work.
Now, it's totally up to you, you YouTube through free video editing tutorial video You will learn to work by watching
or Udemy Go to a platform like this and buy a professional video editing course with little money and learn to work professionally.
But hey, in the beginning you can learn basic editing from YouTube.
3. A video editing software
To edit any video, you must use a video editing software.
Also, you will find a lot of free video editing software on the internet, which can definitely be used to learn the work in the beginning.
However, the better you edit the video with the best editing software, the better the editing results will be.
Besides, through a premium video editor you will get to know about many advanced features and functions, which you may not find in free editing software.
If you really want to learn and do your editing professionally,
So there are many good video editing software available in the online market at very low prices which I would suggest you to use.
Some of the best video editing software are –
Flimora
Adobe Premier Pro
Final Cut Pro
After Effects
If you are looking to use completely free video editing software, then Blender, Shotcut or OpenShot can use
The process we discussed above was for those people who want to learn video editing through their computer or laptop.
However, there are many such people who want to do video editing through their smartphone or android mobile.
But don't worry, there are great ways to learn or do mobile video editing for mobile users too.
How to edit video with Mobile?
If you just want to learn how to edit videos with your mobile, then you can skip all the above mentioned steps.
However, even in this case you have to follow the step of reasoning with a best video editing course.
Because, no matter which device you're using, you'll need a trainer to learn the job.
If you just want to see, feel and learn the basics of how video editing works,
Then you don't have to spend money to do them, you can do these things comfortably from your mobile.
Below are some of the best mobile video editing apps, through which you can enjoy professional video editing on mobile.
Kinemaster
Adobe Rush
Flimora Go
PowerDirector
Quick
Filmmaker Pro
How to find work as a video editor?
Once you learn the job well, you can do video editing work for different companies or clients in their projects.
So, you can definitely find work as a freelance video editor.
You can earn part-time income by working as a Freelance Video Editor alongside your job.
Or if you want, you can give full focus only to this work as Full Time Video Editor.
To find work as a freelance video editor, you can go to various online freelancing marketplaces and look for work.
For example,
Upwork.com
Freelancer.com
Fiverr.com
However, before working as a freelancer you need to know "what and how to do freelancing".
our last words,
So friends, through our today's article you got to know that, What is video editing and how to learn?
We hope you have learned something new through this article.
You can't learn video editing in a day.
But through regular practice/following, when you learn the new techniques gradually,
Then when a basic editor will move to the advanced level, you will not understand.
Anyway, if you have any kind of question or suggestion related to our today's article, do comment below.